The Green Speakeasy events were created to give both faculty and graduate students throughout the University the opportunity to meet and learn about each other's research areas, with the goal of encouraging future collaboration and interdisciplinary work. If you have ideas for future speakers, please share them with us at mcsi@pitt.edu.
Upcoming Green Speakeasy Events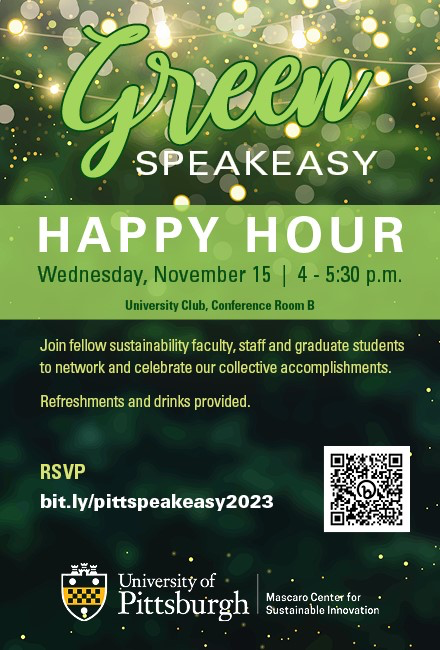 RSVP to join us on Wednesday, November 15 for our Green Speakeasy Happy Hour! Sustainability faculty, staff, and graduate students are invited to network and celebrate their collective accomplishments.
This event will take place in Conference Room B of the University Club from 4:00 to 5:30 P.M. Refreshments and drinks will be provided.
RSVP for MCSI's Green Speakeasy Happy Hour
Past Green Speakeasy Events
Click on each accordion to learn more about our previous Green Speakeasy events.
Grounded Justice (Oct. 5, 2023)

How might we imagine our collective environmental justice futures in Pittsburgh and beyond? In this panel, we will engage in generative discourse with four extraordinary women of color environmentalists in the Pittsburgh region, to explore possibilities for inter-dependent, earth-oriented, and radically just ways of being in community and in nature.

Moderators:

Beatrice Dias, Assistant Professor, School of Education
Cassie Quigley, Professor, School of Education

Panelists:

Ariam Ford, Executive Director, Grounded Strategies
Ebony Lunsford-Evans, Founder, Farmer Girl EB; Executive Director, Out of the End, Inc.
Alyssa Lyon, Director, Black Environmental Collective
Roberta Mendonca De Carvalho, Professor, Urban Studies

Green Speakeasy Research Slam (Feb. 22, 2023)

Moderator: Todd Reeser, Chair, Humanities Council

Slammers: 

Drew Armstrong, History of Art & Architecture
Daniela Fargione, Italian
Aaron Henderson, Studio Arts
Zach Horton, English
Apala Kundu, English
Ruth Mostern, History
Leopold Mvuezolo, French
Vicky Shen, History
John Walsh, French
Molly Warsh, History

Presented by Mascaro Center for Sustainable Innovation and the Humanities Council

Changing Energy for Good (Feb. 22, 2022)

Changing Energy for Good:
Scaling an Equitable Energy Transition with the Global Energy Alliance for People and Planet

Sundaa Bridgett-Jones, Chief Partnerships & Advocacy Officer, The Rockefeller Foundation

Launched at COP26, the Global Energy Alliance for People and Planet is made up of philanthropic, multilateral and development finance institution and government partners committed to accelerated and scaling equitable energy transitions in low- and middle-income countries. This talk shared how the Alliance aims to unlock $100 billion in public and private capital to tackle three human problems simultaneously: Access, Climate, and Jobs.

Presented by Mascaro Center for Sustainable Innovation, Graduate School of Public and International Affairs, and Office of Sustainability

Food Shot (Oct. 19, 2021)

Food Shot:
Launching Moonshots for Better Food
Sara Eckhouse, Executive Director, FoodShot Global

FoodShot Global brings together a powerful partnership of world-class, mission-aligned venture funds, banks, corporations, foundations, universities, and nonprofits. Their leadership provides a long-term vision for our global food future, and works collaboratively with partners to invest in that future. 

Co-hosted by Honors College Dean Nicola Foote, MCSI Assistant Director David Sanchez, and Sustainability Coordinator Nick Goodfellow

Earth Month Teach-In (April 13, 2021)

Earth Month Teach-In:
Leveraging Research to Inform Calls to Action

Join seven influential women who are advancing sustainability by discovering connections and building opportunities toward a healthier future. 

Melissa Bilec, Mascaro Center for Sustainable Innovation
Jessica Burke, Public Health
Emily Elliott, Geology & Environmental Science
Shannah Gilliam, Homewood Children's Village
Mary Ohmer, Social Work
Carla Ng, Engineering
Kay Shimizu, Political Science

Watch a recording of the Earth Month Teach-In session on YouTube

Sponsored by Mascaro Center for Sustainable Innovation

Pitt Deans Talk Sustainability (March 16, 2021)

Pitt Deans Talk Sustainability:
Countering Climate Change, Forging Sustainability the Pitt Way

Ann Cudd, Provost, University of Pittsburgh
Carissa Slotterback, Dean, Graduate School of Public and International Affairs
Maureen Lichtveld, Dean, Graduate School of Public Health
Amy Wildermuth, Dean, School of Law

Asia—the Planet's Battleground for Climate Change (Feb. 16, 2021)

Asia—the Planet's Battleground for Climate Change
Divya Nawale, International Research Associate, Asian Development Bank

One of Asia's top 20 sustainability women of 2020, Divya Nawale (GSPIA /16) currently works with Asian Development Bank on clean energy and energy programs across Southeast Asia. She also serves as an advisor for the nonprofit Nirmaain back home in India where she has launched a climate action program that envisions engaging 10 million people in the coming decade. In this talk, Divya will talk about her journey from SPIA to the Arctic and the Antarctic, and back to the tropics of Asia, and her experiences of how the battleground of Asia is fighting climate change while embracing sustainable development. Read more in Pitt Magazine: Earth Wise.

Co-hosted by Center for Sustainable Business, Graduate School for Public and International Affairs, and Pitt Sustainability

Making the Invisible Visible (Nov. 19, 2020)

Making the Invisible Visible: Developing Hyperlocal Air Monitoring Networks to Better Inform Policy Development and Enactment
Dr. Harold Rickenbacker, Manager, Clean Air and Innovation Environmental Defense Fund (EDF)

Hosted by the Mascaro Center for Sustainable Innovation

Adapting to Climate Change (Oct. 15, 2020)

Adapting to Climate Change: Lessons Learned Relocating an Alaskan Village
Donald Antrobus, Village Infrastructure Protection Program Manager for the Denali Commission
Joel Neimeyer, P.E., retired Federal Engineer

Hosted by the Mascaro Center for Sustainable Innovation

Responsible Investment for a Sustainable World (Sept. 24, 2020)

Responsible Investment for a Sustainable World
Tom Croft, Executive Director, Steel Valley Authority, and Managing Director, Heartland Capital Strategies Network

Hosted by the Mascaro Center for Sustainable Innovation and the Center for Sustainable Business

Pitt and Water Resources (Feb. 25, 2020)

Pitt and Water Resources: Building University-wide Capacity to Meet Water Sustainability Challenges
Emily Elliott, Director at the Pittsburgh Collaboratory for Water Research, Education & Outreach
Dr. Dan Bain, Associate Director
Dr. Eitan Shelef, Associate Director

Co-hosted by the Pitt Office of Sustainability and the Mascaro Center for Sustainable Innovation

Environmental Protection in the Trump Era (Oct. 16, 2019)

Environmental Protection in the Trump Era: the Staining of Science, Economics and Legal Analysis
Shanti Gamper-Rabindran, Associate Professor, Graduate School of Public and International Affairs
Amy Wildermuth, Dean, School of Law

Co-hosted by the Pitt Office of Sustainability and the Mascaro Center for Sustainable Innovation

Green Computing (April 4, 2017)

Green Computing: Saving Energy In and Through Computing
Daniel Mosse, Professor, Computer Science

Sponsored by the Office of the Provost

Managing What We Can't See (Feb. 7, 2017)

Managing What We Can't See: Sustainable Groundwater Use
Brian Thomas, Assistant Professor, Geology and Environmental Science

Sponsored by the Office of the Provost

Renewable Energy and Sustainable Development (Nov. 15, 2016)

Renewable Energy and Sustainable Development
Shanti Gamper-Rabindran, Associate Professor, Graduate School of Public and International Affairs

Hosted by the Mascaro Center for Sustainable Innovation

When Science isn't Enough (April 11, 2016)

When Science isn't Enough: Finding Interdisciplinary Solutions to Global Nitrogen Problems
Emily Elliott, Associate Professor, Geology and Planetary Science

Sponsored by the Office of the Provost

Shifts in Sustainability (Feb. 1, 2016)

Shifts in Sustainability, Seen through Multidisciplinary World History
Patrick Manning, Andrew W. Mellon Professor of World History, and Director, World History Center

Sponsored by the Office of the Provost

Environmental Exposures and Human Health in Social Context (Nov. 2, 2015)

Environmental Exposures and Human Health in Social Context
Jane Clougherty, Assistant Professor, Department of Environmental and Occupational Health

Sponsored by the Office of the Provost

Can Economists Solve our Sustainability Challenges? (Sept. 14, 2015)

Can Economists Solve our Sustainability Challenges?
Jeremy Weber, Assistant Professor, Graduate School of Public and International Affairs

Sponsored by the Office of the Provost

Why Is It So Hard to Find Truly Green Products, Yet So Easy to Find Green-Washed Products? (April 14, 2015)

Why Is It So Hard to Find Truly Green Products, Yet So Easy to Find Green-Washed Products?
Eric Beckman, Co-Director, Mascaro Center for Sustainable Innovation

Sponsored by the Office of the Provost

Marcellus Shale, Sustainability Science and the PA Supreme Court (March 16, 2015)

Marcellus Shale, Sustainability Science and the PA Supreme Court
Bernie Goldstein, Former Dean, Graduate School of Public Health

Sponsored by the Office of the Provost